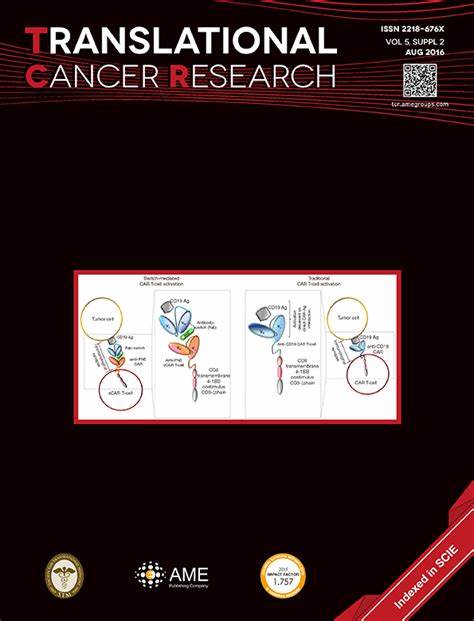 Translational Cancer Research
期刊介绍 该杂志为中国国内SCI杂志
Translational Cancer Research (Transl Cancer Res TCR; Print ISSN: 2218-676X; Online ISSN 2219-6803; http://tcr.amegroups.com/) is an Open Access, peer-reviewed journal, indexed in Science Citation Index Expanded (SCIE). TCR publishes laboratory studies of novel therapeutic interventions as well as clinical trials which evaluate new treatment paradigms for cancer; results of novel research investigations which bridge the laboratory and clinical settings including risk assessment, cellular and molecular characterization, prevention, detection, diagnosis and treatment of human cancers with the overall goal of improving the clinical care of cancer patients. The focus of TCR is original, peer-reviewed, science-based research that successfully advances clinical medicine toward the goal of improving patients' quality of life. The editors and an international advisory group of scientists and clinician-scientists as well as other experts will hold TCR articles to the high-quality standards. We accept Original Articles as well as Review Articles, Editorials and Brief Articles.
TCR is an international peer-reviewed journal, published by AME Publishing Company. It is published bimonthly (Jun. 2012 - Aug. 2019), monthly (Sep. 2019 - ) and openly distributed worldwide.
Information for Authors
TCR is a member of the International Committee of Medical Journal Editors (ICMJE) and follows the ICMJE recommendations for the Conduct, Reporting, Editing, and Publication of Scholarly Work in Medical Journal and the Committee on Publication Ethics (COPE)'s guidelines.
Manuscripts submitted must be original work of the author(s) and must not be published previously or under consideration for publication elsewhere.
平移癌症Researc ^ h(Transl Cancer Res TCR;印刷ISSN:2218-676X;在线ISSN 2219-6803; http://tcr.amegroups.com/)是一本开放存取的,经​​过同行评审的期刊,在《科学引文索引扩展》(SCIE)中进行了索引。TCR出版了新颖治疗干预措施的实验室研究以及评估癌症新治疗范例的临床试验;新颖的研究调查结果,涵盖了实验室和临床环境,包括人类癌症的风险评估,细胞和分子表征,预防,检测,诊断和治疗,其总体目标是改善癌症患者的临床护理。TCR的重点是原始的,经过同行评审的,基于科学的研究,该研究成功地将临床医学推进了改善患者生活质量的目标。编辑,科学家,临床医师以及其他专家的国际咨询小组将按照高质量标准保存TCR文章。我们接受原始文章以及评论文章,社论和简要文章。
TCR是AME出版公司发行的国际同行评审期刊。它每两个月(2012年6月-2019年8月),每月(2019年9月-)出版并在全球范围内公开发行。
TCR是国际医学期刊编辑委员会(ICMJE)的成员,并遵循ICMJE有关医学期刊学术工作的进行,报告,编辑和出版的建议以及出版道德委员会(COPE)的指南。
×
绿色通道审稿 加急发表
可添加微信号:meibisi123
稍后再说
立刻咨询