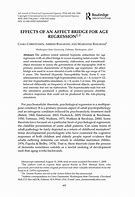 INTERNATIONAL JOURNAL OF CLINICAL AND EXPERIMENTAL HYPNOSIS
期刊介绍
  Founded in 1949, the Society for Clinical and Experimental Hypnosis (SCEH) is an international organization of psychologists, psychiatrists, social workers, nurses, dentists and physicians who are dedicated to the highest level of scientific inquiry and the conscientious application of hypnosis in the clinical setting.
  The membership represents a rare union of some of the finest academicians, researchers and clinicians whose collaboration is designed to support and inform the clinical work and research of its members and other professionals.
  A distinguishing feature of the group is its premise that sound clinical practice is built upon serious scientific inquiry and that important empirical questions are often raised by those who care for patients.
  Through workshops, lectures, publication of the International Journal for Clinical and Experimental Hypnosis (IJCEH), and other teaching activities of SCEH, members educate health care professionals, academicians, researchers, students and the general public about the nature and ethical uses of hypnosis and related phenomena.
  临床和实验催眠学会成立于1949年,是一个由心理学家、精神病医生、社会工作者、护士、牙医和内科医生组成的国际组织,致力于最高水平的科学研究和催眠在临床环境中的认真应用。
  会员代表了一些杰出的院士、研究人员和临床医生的罕见联盟,他们的合作旨在支持和告知其成员和其他专业人员的临床工作和研究。
  该小组的一个显著特点是它的前提是,良好的临床实践是建立在认真的科学调查的基础上的,而重要的经验问题往往是由照顾病人的人提出的。
  通过研讨会、讲座、出版《国际临床和实验催眠杂志》(IJCEH)和科学与工程学院的其他教学活动,成员们向保健专业人员、院士、研究人员、学生和公众宣传催眠的性质和伦理用途以及相关现象。
| | |
| --- | --- |
| 全名/缩写 | /INTERNATIONAL JOURNAL OF CLINICAL AND EXPERIMENTAL HYPNOSIS |
| 期刊ISSN | 0020-7144 |
| 2022-2023影响因子 | 0 实时影响因子查询 (由greensci.net提供-2019 New!) |
| 最新自引率 | 0.00 |
| 期刊官方网站 | |
| 是否OA开放访问 | |
| 出版国家或地区 | |
| 出版年份 | 0 |
| 中科院JCR分区 | 大类:小类: |
| SCI期刊coverage | Science Citation Index Expanded(科学引文索引扩展) |
| 审稿速度(网友添加,非官方) | |
×
绿色通道审稿 加急发表
可添加微信号:meibisi123
稍后再说
立刻咨询