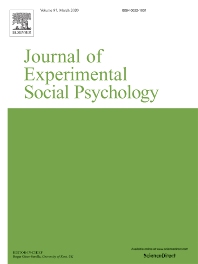 Journal of Experimental Psychopathology
期刊介绍
The Journal of Experimental Psychopathology (EPP) is an open access, peer reviewed, journal focused on publishing cutting-edge original contributions to scientific knowledge in the general area of psychopathology. Although there will be an emphasis on publishing research which has adopted an experimental approach to describing and understanding psychopathology, the journal will also welcome submissions that make significant contributions to knowledge using other empirical methods such as correlational designs, meta-analyses, epidemiological and prospective approaches, and single-case experiments.
Theoretical and review articles addressing significant issues in the description, aetiology, and treatment of psychopathologies are also welcome. Articles contributing to knowledge of most areas of psychopathology will be considered for publication, including anxiety-based problems, depression and mood disorders, schizophrenia and psychotic symptoms, substance abuse and dependency, eating disorders, sexual and gender identity problems, personality disorders, somatoform disorders, dissociative experiences, neurological disorders, childhood psychological problems, and learning, intellectual and developmental disabilities. Participants in published studies may include individuals with diagnosed mental health problems, non-clinical human populations, human analogue populations, or nonhuman animals.
In the traditional spirit of experimental psychopathology, submissions from studies on non-clinical populations that make a contribution to understanding the aetiology of psychopathology will be especially welcomed. While the journal's focus is primarily on the psychological and cognitive processes associated with psychopathology, contributions studying the biological substrates of psychopathology will also be considered.
《实验精神病理学杂志》(EPP)是一种开放存取,同行评审的杂志,着重于出版对精神病理学一般领域的科学知识的前沿贡献。尽管将重点放在采用实验方法描述和理解心理病理学的出版研究上,但该期刊也将欢迎使用其他经验方法(例如相关设计,荟萃分析,流行病学和前瞻性方法)对知识做出重大贡献的论文和单例实验。
也欢迎针对描述,病因学和精神病学治疗等重大问题的理论和评论文章。将考虑发表有助于大多数精神病理学知识的文章,包括基于焦虑的问题,抑郁和情绪障碍,精神分裂症和精神病性症状,药物滥用和依赖性,饮食障碍,性和性别认同问题,人格障碍,躯体形式障碍,解离经历,神经系统疾病,儿童时期的心理问题以及学习,智力和发育障碍。已发表研究的参与者可能包括诊断出患有精神健康问题的个体,非临床人群,人类类比人群或非人类动物。
本着实验精神病理学的传统精神,将特别欢迎来自非临床人群研究的论文,这些论文有助于理解精神病理学的病因。尽管该期刊的重点主要是与心理病理学相关的心理和认知过程,但也将考虑对心理病理学的生物学基础进行研究的贡献。
| | |
| --- | --- |
| 全名/缩写 | /Journal of Experimental Psychopathology |
| 期刊ISSN | 2043-8087 |
| 2022-2023影响因子 | 0 实时影响因子查询 (由greensci.net提供-2019 New!) |
| 最新自引率 | 0.00 |
| 期刊官方网站 | |
| 是否OA开放访问 | |
| 出版国家或地区 | |
| 出版年份 | 0 |
| 中科院JCR分区 | 大类:小类: |
| SCI期刊coverage | Science Citation Index Expanded(科学引文索引扩展) |
| 审稿速度(网友添加,非官方) | |
×
绿色通道审稿 加急发表
可添加微信号:meibisi123
稍后再说
立刻咨询