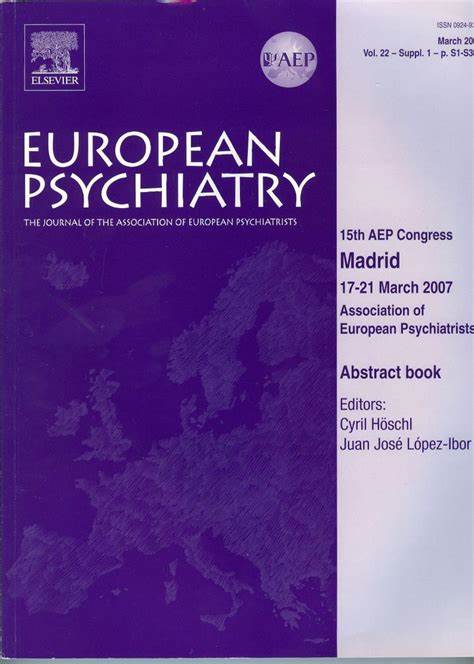 EUROPEAN JOURNAL OF PSYCHIATRY
期刊介绍
The European Journal of Psychiatry is a quarterly publication founded in 1986 and directed by Professor A. Seva until his death in 2004. The journal is indexed in different bibliographic data bases, including the Social Sciences Citation Index. It is supported by the University of Zaragoza (Spain), has been open to contributions from all over the world, and also has North American and Asian-Pacific co- editors.
A new stage of development of the journal has started in 2017. A new Editorial Board has been appointed and an advanced on-line editorial system has been implemented. Our new publishing partners will help to assure that our valuable research gets broadly disseminated, providing a more accessible entry into our contribution
The overriding criteria for publication are originality, a high scientific quality and interest to a wide audience of those concerned with all aspects of mental illness. The scope is broad and the journal is committed to present new developments in the full spectrum of issues related to psychiatry and mental health, in areas linked to biological, psychological and social sciences. It will include basic studies and the growing application of clinical laboratory techniques in psychiatry. The European Journal of Psychiatry is determined to place particular emphasis on clinical issues related to a personalised medicine, including prevention and early intervention.
《欧洲精神病学杂志》是于1986年创刊的季度刊,由A. Seva教授指导直至他于2004年去世。该杂志在不同的书目数据库中都有索引,包括《社会科学引文索引》。它得到了西班牙萨拉戈萨大学的支持,向世界各地的学者开放,并有北美和亚太地区的共同编辑。
该杂志的新发展阶段已于2017年开始。已任命新的编辑委员会,并已实施了先进的在线编辑系统。我们的新出版合作伙伴将帮助确保我们有价值的研究得到广泛传播,从而为我们的贡献提供更便捷的进入途径
出版的首要标准是原创性,较高的科学素养和对与精神疾病各个方面有关的广大读者的兴趣。范围广泛,该期刊致力于在与生物学,心理学和社会科学相关的领域中介绍与精神病学和心理健康有关的所有问题的新发展。它将包括基础研究和临床实验室技术在精神病学中的日益增长的应用。《欧洲精神病学杂志》决心特别重视与个性化药物有关的临床问题,包括预防和早期干预。
×
绿色通道审稿 加急发表
可添加微信号:meibisi123
稍后再说
立刻咨询