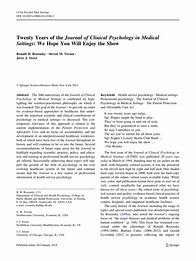 JOURNAL OF CLINICAL PSYCHOLOGY IN MEDICAL SETTINGS
期刊介绍
  This is the official journal of the Association of Psychologists in Academic Health Centers (APAHC). It publishes clinical articles that reflect single-case design methodology; literature reviews that serve as a basis for new techniques, heuristic research challenges, or exemplary clinical material; and papers that address philosophical issues surrounding training models at different educational levels.
  The Journal of Clinical Psychology in Medical Settings is an international forum for the publication of peer-reviewed original papers on both applied and basic research as related to the work of psychologists in medical settings and with all patient groups.
  Coverage in the journal includes innovative training programs; special course materials; licensing, credentialing, and privileging in hospital practice; ethics; the role of psychologists in medical schools; professional practice matters; practice management; marketing and the politics of health care in general.
  这是学术健康中心心理学家协会的官方期刊。它出版反映单一病例设计方法的临床文章;作为新技术、启发性研究挑战或示范性临床材料基础的文献综述;以及针对不同教育水平的培训模式的哲学问题的论文。
  《医疗环境中的临床心理学杂志》是一个国际论坛,供发表与医疗环境和所有患者群体中的心理学家工作有关的应用和基础研究方面的同行评议原始论文。
  该杂志的报道范围包括创新培训方案;特别课程材料;医院执业许可证、认证和特权;伦理学;医学院心理学家的作用;专业实践事项;执业管理;市场营销和一般保健政治。
| | |
| --- | --- |
| 全名/缩写 | /JOURNAL OF CLINICAL PSYCHOLOGY IN MEDICAL SETTINGS |
| 期刊ISSN | 1068-9583 |
| 2018-2019影响因子 | 1.48 实时影响因子查询 (由greensci.net提供-2019 New!) |
| 最新自引率 | 0.00 |
| 期刊官方网站 | |
| 是否OA开放访问 | |
| 出版国家或地区 | |
| 出版年份 | 0 |
| 中科院JCR分区 | 大类:小类: |
| SCI期刊coverage | Science Citation Index Expanded(科学引文索引扩展) |
| 审稿速度(网友添加,非官方) | |
×
绿色通道审稿 加急发表
可添加微信号:meibisi123
稍后再说
立刻咨询