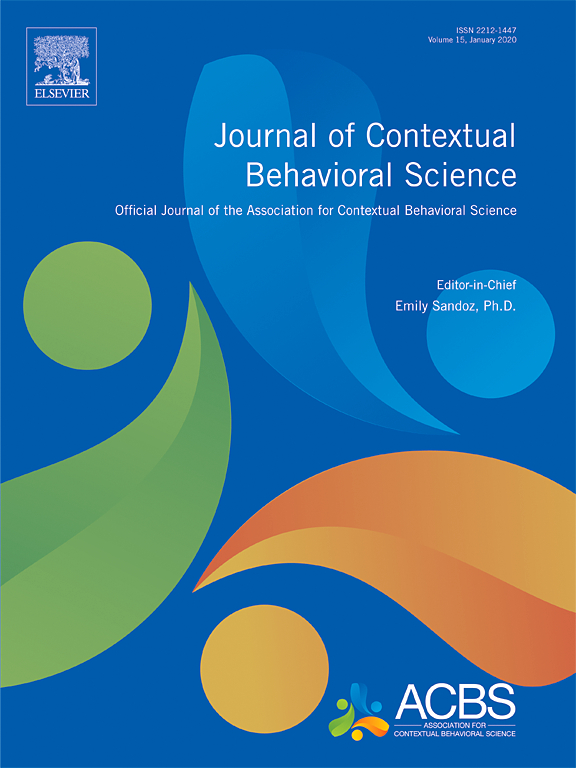 Journal of Contextual Behavioral Science
期刊介绍
  The Journal of Contextual Behavioral Science is the official journal of the Association for Contextual Behavioral Science (ACBS).
  Contextual Behavioral Science is a systematic and pragmatic approach to the understanding of behavior, the solution of human problems, and the promotion of human growth and development. Contextual Behavioral Science uses functional principles and theories to analyze and modify action embedded in its historical and situational context. The goal is to predict and influence behavior, with precision, scope, and depth, across all behavioral domains and all levels of analysis, so as to help create a behavioral science that is more adequate to the challenge of the human condition.
  Contextual behavioral science is a strategic approach to the analysis of human behavior that proposes the need for a multi-level (e.g. social factors, neurological factors, behavioral factors) and multi-method (e.g., time series analyses, cross-sectional, experimental…) exploration of contextual and manipulable variables relevant to the prediction and influence of human behavior.
  语境行为科学杂志是语境行为科学协会(ACBS)的官方期刊。
  语境行为科学是一门系统的、实用的方法,它旨在理解行为,解决人类问题,促进人类的成长和发展。语境行为科学运用功能原理和理论来分析和修正其历史和情境语境中的行为。其目标是在所有行为领域和所有层次的分析中,以精确、范围和深度预测和影响行为,从而帮助创建一门更能应对人类条件挑战的行为科学。
  情境行为科学是一种分析人类行为的战略方法,它提出了对多层次(如社会因素、神经因素、行为因素)和多方法(如时间序列分析、横截面分析、时间序列分析、时间序列分析等)的需求,实验……)探索与人类行为的预测和影响相关的上下文和可操作变量。
| | |
| --- | --- |
| 全名/缩写 | /Journal of Contextual Behavioral Science |
| 期刊ISSN | 2212-1447 |
| 2022-2023影响因子 | 0 实时影响因子查询 (由greensci.net提供-2019 New!) |
| 最新自引率 | 0.00 |
| 期刊官方网站 | |
| 是否OA开放访问 | |
| 出版国家或地区 | |
| 出版年份 | 0 |
| 中科院JCR分区 | 大类:小类: |
| SCI期刊coverage | Science Citation Index Expanded(科学引文索引扩展) |
| 审稿速度(网友添加,非官方) | |
×
绿色通道审稿 加急发表
可添加微信号:meibisi123
稍后再说
立刻咨询