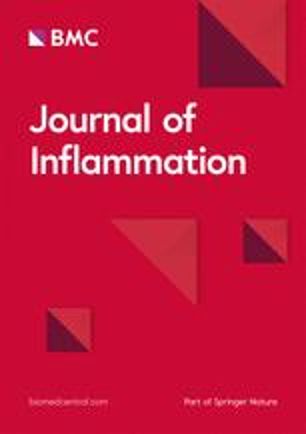 Journal of Inflammation-London
期刊介绍
journal of Inflammation welcomes research submissions on all aspects of inflammation.
The five classical symptoms of inflammation, namely redness (rubor), swelling (tumour), heat (calor), pain (dolor) and loss of function (functio laesa), are only part of the story. The term inflammation is taken to include the full range of underlying cellular and molecular mechanisms involved, not only in the production of the inflammatory responses but, more importantly in clinical terms, in the healing process as well. Thus the journal covers molecular, cellular, animal and clinical studies, and related aspects of pharmacology, such as anti-inflammatory drug development, trials and therapeutic developments. It also considers publication of negative findings.
Journal of Inflammation aims to become the leading online journal on inflammation and, as online journals replace printed ones over the next decade, the main open access inflammation journal. Open access guarantees a larger audience, and thus impact, than any restricted access equivalent, and increasingly so, as the escalating costs of printed journals puts them outside University budgets. The unrestricted access to research findings in inflammation aids in promoting dynamic and productive dialogue between industrial and academic members of the inflammation research community, which plays such an important part in the development of future generations of anti-inflammatory therapies.
炎症杂志欢迎有关炎症各个方面的研究提交。
炎症,即发红(五个典型症状发红),肿胀(肿瘤),热(灼热),疼痛(悲)和功能(丧失功能下降),是故事的一部分。术语炎症被认为包括所涉及的全部潜在的细胞和分子机制,不仅在炎症反应的产生中,而且更重要的是在临床上也包括在愈合过程中。因此,该杂志涵盖了分子,细胞,动物和临床研究以及药理学的相关方面,例如抗炎药的开发,试验和治疗的发展。它还考虑发布负面结果。
《炎症杂志》旨在成为领先的炎症在线期刊,并且在未来十年内,随着在线期刊取代印刷期刊,主要的开放获取炎症期刊。开放式访问与任何限制访问的对等用户相比,可以确保更大的受众群体并因此产生更大的影响,因为印刷期刊的成本不断上涨,使它们超出了大学的预算。不受限制地获取炎症研究成果有助于促进炎症研究界的工业界和学术界之间的动态和富有成效的对话,这在下一代抗炎疗法的发展中起着重要作用。
×
绿色通道审稿 加急发表
可添加微信号:meibisi123
稍后再说
立刻咨询