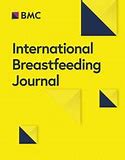 International Breastfeeding Journal
期刊介绍
  Publications on the topic of breastfeeding are wide ranging. Articles about breastfeeding are currently published journals focused on nursing, midwifery, paediatric, obstetric, family medicine, public health, immunology, physiology, sociology and many other topics. In addition, electronic publishing allows fast publication time for authors and Open Access ensures the journal is easily accessible to readers.
  International Breastfeeding Journal encompasses all aspects of breastfeeding. The journal addresses the need for a high quality multi-disciplinary journal in the field.
  In order to help women breastfeed successfully, there is a need to understand both the physiology of lactation and the social and cultural context within which breastfeeding occurs. The journal addresses all of these aspects, including identifying women who are at increased risk of not breastfeeding; the impediments to breastfeeding and the health effects of not breastfeeding for infants and their mothers; interventions to increase breastfeeding initiation and duration; and the management of breastfeeding problems.
  关于母乳喂养的出版物范围很广。有关母乳喂养的文章是目前出版的期刊,主要集中在护理、助产、儿科、产科、家庭医学、公共卫生、免疫学、生理学、社会学和许多其他主题。此外,电子出版允许作者快速出版,开放存取确保了读者可以方便地访问该期刊。
  国际母乳喂养杂志涵盖母乳喂养的所有方面。该杂志满足了这一领域对高质量多学科期刊的需求。
  为了帮助妇女母乳喂养成功,有必要了解哺乳的生理学和母乳喂养发生的社会和文化背景。该杂志涉及所有这些方面,包括确定不母乳喂养风险增加的妇女;母乳喂养的障碍和不母乳喂养对婴儿及其母亲的健康影响;增加母乳喂养开始时间和持续时间的干预措施;以及母乳喂养问题的管理。
×
绿色通道审稿 加急发表
可添加微信号:meibisi123
稍后再说
立刻咨询