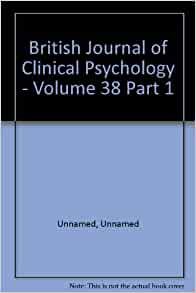 BRITISH JOURNAL OF CLINICAL PSYCHOLOGY
期刊介绍
《英国临床心理学杂志》发表了有关临床心理学各个方面的经验研究和理论原创研究:
•具有描述性或实验性研究的临床和异常心理学
•不论年龄段和背景如何,病因学,对各种心理疾病的评估和治疗
•对个体行为的生物学影响
•对个体,双亲,家庭和群体的心理干预和治疗研究
有关特定的提交要求,请参阅《 作者指南》。
《日刊》在回答实质性科学问题的理论和方法范围方面具有宽容性。没有当前心理障碍的样本的研究仅在与临床理论或实践直接相关的情况下才考虑。
The British Journal of Clinical Psychology publishes original research, both empirical and theoretical, on all aspects of clinical psychology:
• clinical and abnormal psychology featuring descriptive or experimental studies
• aetiology, assessment and treatment of the whole range of psychological disorders irrespective of age group and setting
• biological influences on individual behaviour
• studies of psychological interventions and treatment on individuals, dyads, families and groups
For specific submission requirements, please view the Author Guidelines.
The Journal is catholic with respect to the range of theories and methods used to answer substantive scientific problems. Studies of samples with no current psychological disorder will only be considered if they have a direct bearing on clinical theory or practice.
The following types of paper are invited:
• papers reporting original empirical investigations;
• theoretical papers, provided that these are sufficiently related to empirical data;
• review articles, which need not be exhaustive, but which should give an interpretation of the state of research in a given field and, where appropriate, identify its clinical implications;
• Brief Reports and Comments.
×
绿色通道审稿 加急发表
可添加微信号:meibisi123
稍后再说
立刻咨询