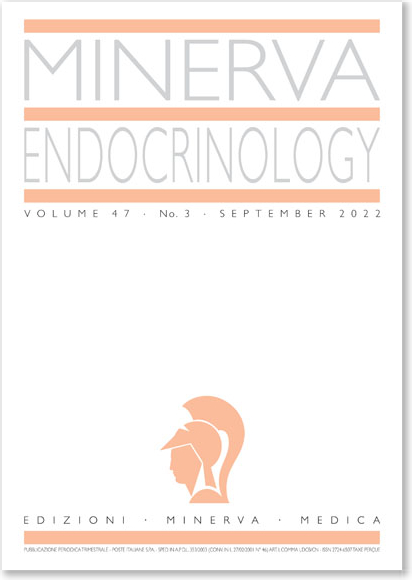 Minerva Endocrinologica
期刊介绍
Minerva Endocrinology is a quarterly international, peer-reviewed scientific Journal on endocrine system diseases,
founded in 1976. It is indexed in EMBASE, PubMed/MEDLINE, Science Citation Index Expanded (SCIE), Scopus, and has
an Impact Factor of 2.184.
The journal encompasses all emerging areas in the field of Endocrinology and Metabolism, from research works on
endocrine system diseases, to basic clinical research, including meta-analysis, and the expectation is that of further
increasing the journal's impact and contribution rate by increasing the number of invited reviews and special issues
on topics of current interest.
The aim is to provide a reliable forum for scientific communication among professionals while influencing the practice
of clinicians, researchers, industries at an international level and providing its readers with papers of the highest quality
thanks to a fast and thorough peer review process, careful editorial work as well as open access options.
Minerva Endocrinology welcomes articles on a wide variety of topics related to endocrinology, which may be submitted
in the form of editorials, original articles, review articles, special articles, letters to the Editor and guidelines
意大利期刊,该期刊涵盖了内分泌学和代谢学领域的所有新兴领域,从
内分泌系统疾病的研究工作到基础临床研究,包括meta分析,发稿量比较少,属于小众期刊。
×
绿色通道审稿 加急发表
可添加微信号:meibisi123
稍后再说
立刻咨询