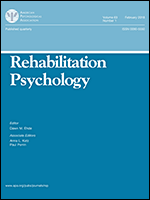 REHABILITATION PSYCHOLOGY
期刊介绍
  Rehabilitation Psychology ? is a quarterly peer-reviewed journal that is dedicated to the advancement of the science and practice of rehabilitation psychology.
  Rehabilitation Psychology is the official journal of APA's Division 22 (Rehabilitation Psychology). It is dedicated to the service of the Division and the broader fields of psychology and rehabilitation.
  Rehabilitation psychologists consider the entire network of biological, psychological, social, environmental, and political factors that affect the functioning of persons with disabilities or chronic illness. Given the breadth of rehabilitation psychology, the journal's scope is broadly defined.
  康复心理学?是一份季度同行评议期刊,致力于康复心理学科学和实践的发展。
  康复心理学是美国心理协会第22分部(康复心理学)的官方期刊。它致力于为该司以及心理学和康复领域提供服务。
  康复心理学家考虑影响残疾人或慢性病功能的生物、心理、社会、环境和政治因素的整个网络。鉴于康复心理学的广度,该杂志的范围被广泛界定。
×
绿色通道审稿 加急发表
可添加微信号:meibisi123
稍后再说
立刻咨询