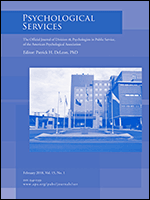 Psychological Services
期刊介绍
  Psychological Services ? publishes high-quality data-based articles on the broad range of psychological services delivered in organized care settings. Organized care settings refers to jails, prisons, courts, Indian Health Service, the military, Department of Veterans Affairs, university clinics, training hospitals, and so forth.
  Psychological Services encourages submission of papers that focus on broad issues related to psychotherapy outcomes, evaluations of psychological service programs and systems, and public policy analyses. Psychological Services will also publish a limited number of significant literature reviews and case studies of psychological services, service delivery systems, or model programs.
  Psychological Services is the official publication of the Division of Psychologists in Public Service (Division 18) of the American Psychological Association.
  心理服务?发布基于数据的高质量文章,介绍在有组织的护理环境中提供的各种心理服务。有组织的护理环境是指监狱、监狱、法院、印度卫生局、军队、退伍军人事务部、大学诊所、培训医院等。
  心理服务鼓励提交论文,重点关注与心理治疗结果、心理服务项目和系统评估以及公共政策分析有关的广泛问题。心理服务也将出版数量有限的重要文献评论和案例研究的心理服务,服务提供系统,或模式方案。
  心理服务是美国心理协会公共服务心理学家分部(第18分部)的正式出版物。。
×
绿色通道审稿 加急发表
可添加微信号:meibisi123
稍后再说
立刻咨询